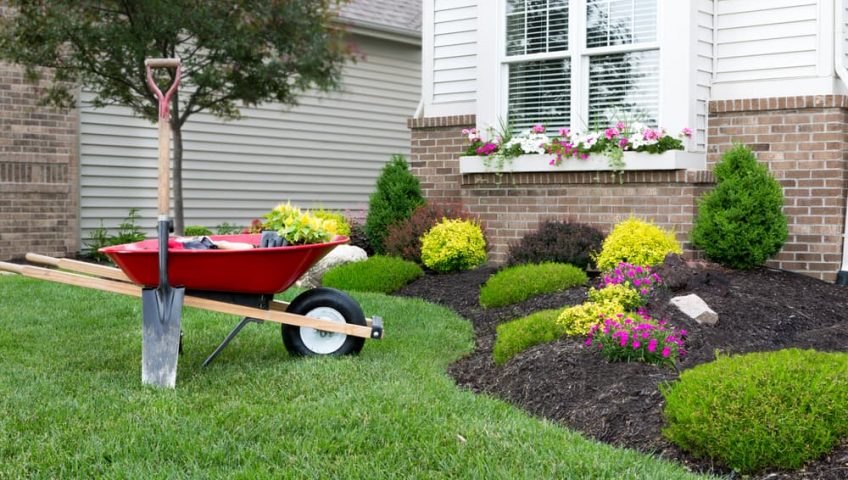 Spring is the best time to clean and spruce up your home. There's just something satisfying about getting outside to tidy up after the long and messy winter. That's why we always recommend starting your landscaping in spring so you can have it all ready to make the most of the summer weather. Here's how to kick start your outdoor spring cleaning this year.
Retaining walls serve an important purpose — they contain soil and prevent erosion while retaining the difference in the level ground. And, for some properties, they're installed to simply enhance the aesthetics of the exterior. Either way, performing some regular maintenance is always recommended to prevent any damage from occurring to the wall structure. To get yours ready for the winter, here are some tips for retaining wall upkeep for colder weather.
Looking to design a beautiful landscaping plan for your home? There's a lot more to creating an attractive outdoor design than just calling a contractor and picking out plants. Here we'll show you five vital steps of the landscaping project planning process you should know about before committing.
Taking on a landscaping project yourself doesn't always go as planned. And what you had envisioned can quickly end up turning out much differently if you're not experienced or really know what you're doing. When you're considering upgrading your outdoor space, we recommend that the landscaping should only be done by professionals. Here's why.
Fed up of looking out at your lifeless backyard? Looking to do a little something different to your outdoor space this season? We have just what you need! Whether you want to polish up your yard with some new interlock stones, add a unique focal feature to your poolscape, or enhance the ambience to make your landscape look more inviting, here are a few of our favourite outdoor features that can do the trick.
Interlock Pool Patios
Are you tired of the wobbly, faded, or cracked pavement around your pool? Having an unattractive pool surround can detract from your entire backyard. But interlocking stone can easily fix that. Interlock for your pool patio is the perfect way to add intricate and attractive detailing that can transform your yard. It's also the easiest way to keep your pool deck safer (with a slip-proof surface).
Not sure what the difference is between hardscaping and landscaping? Although these two design elements are required for a fully functional landscape, they are entirely different in nature. To understand how to blend them together to create an attractive and inviting backyard, we'll show you what distinguishes each element and how they can be combined to create the perfect outdoor oasis.
Hardscaping
Hardscaping refers to the non-living elements that are solid and unchanging throughout your landscape like the interlocking walkways and patios, the retaining walls, pool patios, stone waterfalls and fountains, asphalt, lighting, and pool features. Hardscape is often used to gain extra livable space in your yard and to accent all of your natural features. This is what landscapers start with to create the boundaries, overall shape, and artistic design of your yard.
Are you tired of having to upgrade or maintain a portion of your landscape each year? One year it's the patio stones, the next it's the retaining wall, then the pool area and no matter how much work you put into it, it can feel impossible to keep up and achieve that polished looking yard that you've been dreaming of. If this sounds familiar, then it might be time to engage in a full-fledged landscaping renovation.
Starting fresh can improve the overall appearance of your property and reduce the hassle of constant repair and maintenance that takes away from your precious summer weekends. To help you decide if this is the right option for you, check out our top five benefits of a full-fledged landscaping renovation for your home exterior.
Save Time
Do you spend a majority of your summer fixing up your hardscape elements or re-designing a damaged garden after a hard winter? If you have an outdated landscape design, chances are you'll need to spend a significant amount of time and money trying to fix it up year after year. Instead, save yourself the effort and get the entire landscape improved in one go so you can finally just sit back and enjoy it.